Yesterday, shortly before 10:30 am est, the oil price (WTI) stood at 58.60 dollars. This was followed by US Crude oil Inventory data. Since then, the price has been running wildly upwards in an upward move overnight to 61.53 dollars this morning – an increase of almost 3 dollars. Amazing!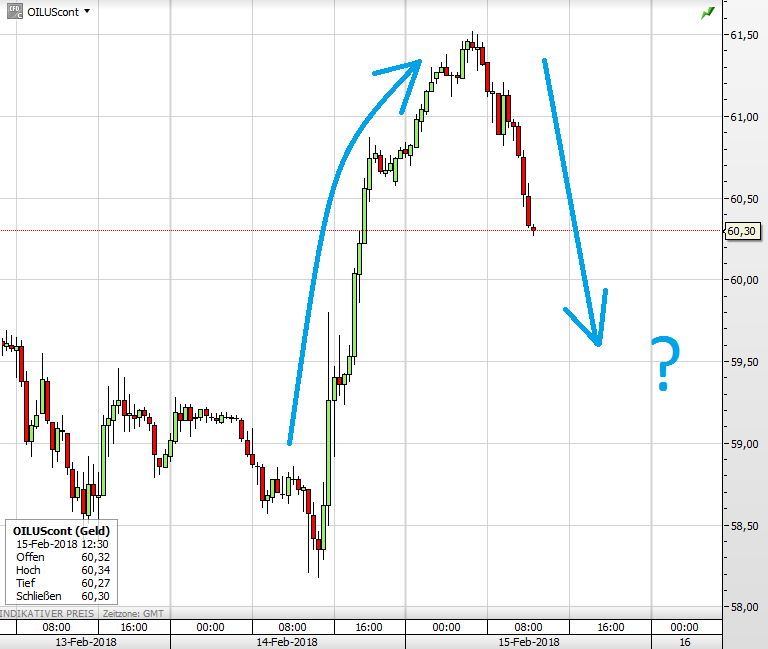 The Oil price since Tuesday morning.
Oil price in big picture
A part of this move has already been lost now in the oil price, as the first chart shows. This second chart, which dates back to January 16th, shows the recent upward move only as a small upward correction in the downward trend. So it would be dangerous to believe that this actual up move is a clear new trend.
Don´t trust the reasons blindly
And what was the reason for this rapid 3 dollar move in the oil price? First, there is strong suspicion that a mini-short squeeze started because the market had lost $8 in just a few days. The air had to escape to the top in one fell swoop.
Then there is the weakening US dollar. According to yesterday's US economic news from 10:30 am est, it took the dollar an hour to make up for a bearish move. One hour later the dollar index then fell from 89.50 to 88.50 index points. Of course, this also provided support in the oil price.
Why would it be dangerous to get involved with a Long trade now? Well, in the end, the oil market is unpredictable, and prices could rise even further. But the most important current factor on the oil market has not changed overnight. After all, the production volume of US oil has come to the fore in the last two or three weeks. It exploded recently.
In the previous week it was only in one week +332,000 barrels per day, and yesterday +20,000 barrels per day. At the same time, this massive expansion of production probably put a stop to the reduction of inventories. After months of dismantling, these have been rising again for three weeks, from 411 to 422 million barrels. New US drilling rigs are also expected to be commissioned shortly, which suggests further increases in production volumes. So further pressure on the oil price is possible.
As always here our advice: The oil market remains unpredictable!
Please follow and like us: